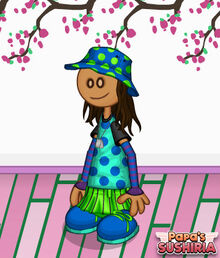 Full name: Logan Peters
Born: January 27, 1993 (age 25)
No occupation yet, but is a fan of bright colors and polka dots. A fan of carnival foods, boat trips, and horses.
Additional info
Occupation: Unknown
Height: 5'10
Zodiac sign: Aquarius
Favorite colors: Bright blue, neon green, teal, purple, pretty much any bright/neon color
Handedness: Right
Belly button: Innie
Favorite foods: Freeze pops (especially the pink ones!), chocolate cake
Ticklish level (1-10): 11.5
Shoe size: 9
Toe color: Blue
Food day she was born on: Chocolate Cake Day (she sure does love it!)
Phone number: (297) 973-9474
Fun facts
Her username on social media is LoganPeters127.
She only prefers flip flops and sandals, and thinks other shoes are boring.
She won The Voice Waterland (a talent show) in 2015.
She placed second in the 2014 Flipversevision Song Contest with her song "Luau Punch".
She is an Aquarius, and her favorite colors go well with her sign.